The Five Pits Trail runs from Tibshelf, through Pilsley, and on to Holmewood and Grassmoor. It's a pleasant walk past the sites of the old pits, along the route of some of the old Great Central Railway lines. Almost all traces of the pits have disappeared, although the head gear is still in place at Holmewood pit, which is now the site of a fairly large industrial estate. The paths have recently been refurbished, and are now in much better condition, with most of their surface being covered with crushed white stone, I suppose after 30 years of use you can expect it to have got a little worn!.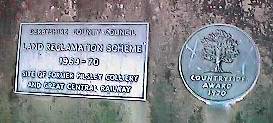 The land reclamation scheme was given a Countryside Award back in 1970, and certainly there are now very few visible traces of what must have once been a fairly forbidding industrial landscape. I've lived here since 1981, and, although I live only a short distance away from the site of Pilsley Colliery, I had to consult old maps at Chesterfield Reference Library to find where the pit was actually situated!. The pit commenced operation in 1866, and by 1894 employed 954 persons above and below ground, producing approximately 1,200 tons of coal during eight and a quarter hours operation of the winding engine.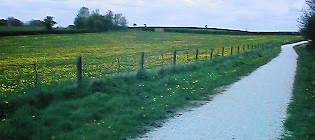 Pilsley Colliery closed in May 1957, with the miners being found work at other local pits. This picture is from the Five Pits Trail, looking over the original location of Pilsley Colliery, as can be clearly seen, any trace of the pit has been removed. The crushed white stone path, recently renovated, can be clearly seen here!.